---
Appearance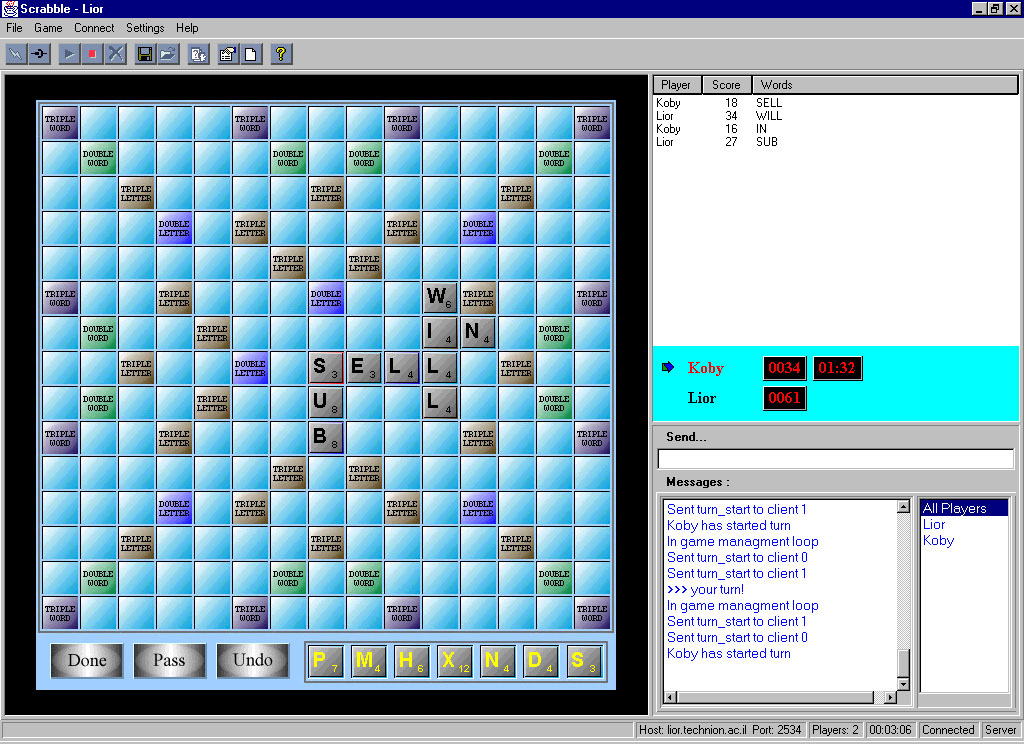 Toolbar
The toolbar enables easy access to options from the menus that are usually used.

Status bar
Contains the following information:
Host name and Port number.
Number of players.
Clock / Time from beginning of game.
An indicator : Connected / Not Connected.
An indicator : Client / Server / None.

Chat area
Contains the following:
Send area: Enables the players to send text messages to each other. In order to do so, just type your message in this area, and press the "Enter" key.
Messages area: This area displays messages from other players, and from the Scrabble game itself.
Choose Name area: This area contains the nick names of all players. By clicking on one of them, the player can choose to whom to send a private text message.

Score of Players
Contains the total score of all players. This area also tells to all players whose turn it is: the current player nick is painted in red and an arrow points to it.


Score details
Contains detailed information on each turn in the game: The player's name, the score he/she achieved in the turn, and the composed words.


Play Board
Contains the following:
15x15 board - players place their tiles on it.
"Letters Bank" that contains 7 tiles to be used by the players.
DONE, PASS and UNDO buttons, that do the same as their corresponding in the Game menu.